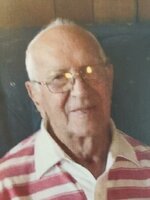 Ernest J. Hilliker, Sr.
Ernest James Hilliker, Sr , 96, of Silver Creek, NY passed away Monday morning, August 1,
2022 at his home.
He was born in the Town of Hanover, NY on November 4, 1925, the son of the
late Howard W. and Carmie (Pratt) Hilliker.
On April 23, 1949, he married the love of his life, Thelma Restivo
at Our Lady of Mt. Carmel R.C. Church, Silver Creek, NY.
Ernie is survived by his loving wife of 73 years, Thelma J. Hilliker, a
daughter, Lorraine (Gerald) Cheser of Springfield, KY, a daughter, Linda
(Greg) Mohart of Jacksonville, FL, a son, Ernest J. (Susan) Hilliker, Jr. of
Silver Creek, to which he was a wonderful husband and father. Also
surviving is a brother, David Hilliker of Phoenix, AZ ; eight grandchildren,
sixteen great grandchildren, two great- great grandchildren and several nieces &
nephews.
In addition to his parents he was preceded in death by five brothers; Howard
A. "Bite", Allen G., Neil L., Carl and Park
Hilliker.
Ernie served in the U.S. Army, during WWII. He worked for Ford Motor
Company for 35 years retiring in 1983. He was a grape supplier to
Welch's for over 50 years from 1958 until 2012. In his early years he
enjoyed stock car racing with his brother-in-law Sam Restivo. Ernie spent
many hours watching car racing & westerns on TV as well as the Buffalo
Bills football team and visited the casino periodically. He loved spending time
with his friends. Ernie was a member of the Silver Creek Senior Citizens,
the Mt. Carmel Social Senior Club, as well as a lifetime member of the Samuel
Cimino, VFW Post #6472, Silver Creek. The family suggests memorial contributions
in Ernie's memory to the Hanover Center Fire Dept. or the Sunset Bay Fire Dept.
Relatives and friends may call at the Hole-Parker Funeral Chapel, 160
Central Ave., Silver Creek, NY on Friday, August 5, 2022 from 6- 8 PM. A Mass of
Christian Burial will celebrated on Saturday, August 6, 2022 at Our Lady
of Mt. Carmel R.C. Church, 165 Central Ave. Silver Creek at 10 AM. ,Fr. Daniel Fiebelkorn will
officiate. Interment will be in the Mt. Carmel Cemetery, Silver Creek, NY.
Please share condolences at www.holeparker funeral chapel.com.