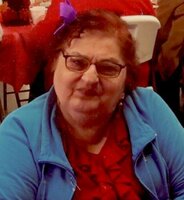 Dorothy M. Kacprowicz
Dorothy M. Kacprowicz
Oct. 26,1943 – Oct. 3, 2022
Dorothy M. Kacprowicz, 78, of Fredonia, NY passed away on Monday afternoon, October 3, 2022 at her residence.
She was born in Philipsburg, Pa. on October 26, 1943, the daughter of the late Michael and Susan (Kushner) Geffert.
Dorothy is survived by her brother John M. Geffert of Sheridan, NY; three nephews, John J. (Lisa), Daniel M. and Robert M. Geffert all of Fredonia, NY; a step-daughter, Chris (Ralph) Formica; four step-sons, Carl, Stephen, Rick, and Paul Kacprowicz; eight step-grandchildren, Michelle, Nick, Tony, Lindsey, Dominick, Michaelanne, Laura and Rachael; two great-nieces, Addison and Michaela Geffert; two great-nephews, Sean and Brandon Geffert;
In addition to her parents, she is preceded in death by her first husband, Dominic Porpiglia, her second husband, Raymond Kacprowicz and two sisters, Agnes Fry and Betty Chupa.
Dorothy enjoyed arts & crafts and working on crossword puzzles. Most of all she loved her spending time with her family.
Friends may call at the Hole-Parker Funeral Chapel, 160 Central Ave Silver Creek, NY on Monday, October 10, 2022 from 4-6 PM. A graveside service will be held on Tuesday, October 11, 2022 at Mt. Carmel Cemetery, Old Main Road, Silver Creek, NY at 1PM.
Please share condolences at www.holeparkerfc.com.