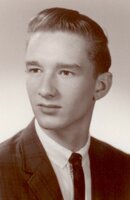 Paul M Fleissner
Paul M. Fleissner, 77, of Silver, Creek, NY, " Hanford Bay" passed away on Monday, October 10, 2022 at the Brooks Memorial Hospital in Dunkirk, NY after a long courageous battle with cancer.
He was born on May 28, 1945 in Buffalo, NY, the son of the late Michael and Selma (Schmidt) Fleissner. On September 18, 1971 he married Sue Nogle at Our Lady of Mt. Carmel in Silver Creek, NY.
Surviving are his wife of 51 years, Sue Fleissner of Silver Creek; a son, Thomas (Trish) Fleissner of Silver Creek; a daughter, Jennifer (Vincent Tundo) Fleissner of Dunkirk, NY; a granddaughter, Haley A. Tundo; two step- grandchildren, Bayleigh Raynor and Patrick Franklin; a step-great grandson, Kaytum; a brother, Ron (Judy) Fleissner of Orchard Park; three nieces.
Paul was a 1963 graduate of Orchard Park High School. He continued his education at EC Technical Institute earning an Associate Degree in Mechanical Engineering and Technology. He enjoyed tinkering on cars, so he went to work as a mechanic for A.J.Chevrolet in Silver Creek, Dengler Chevrolet in Fredonia, NY and finished up at Basil Crevrolet in Fredonia with more than 30 years of service, retiring in 2011.
Paul lived on the lake most of his life, he loved to go boating and was a very accomplished wake boarder. He built a dune buggy with his father-in-law, James Nogle and enjoyed to take day trips with Sue all over WNY, Pa and Ohio. He also had a passion for woodworking and would spend hours making all types of fishing lures that are on display at his house.
Friends may call at the Hole-Parker Funeral Chapel, 160 Central Ave Silver Creek, NY on Wednesday, October 12, 2022 from 11 AM until the time of services at 1 PM. Interment will follow at the Glenwood Cemetery.
In lieu of flowers, memorial contributions may be made to Our Lady of Mount Carmel, R.C. Church, 165 Central Ave., Silver Creek, NY.
Please share condolences at www.holeparkerfc.com.