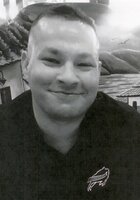 Nicholas L. Golembieski
On November 6 th 2022, Nicholas Golembieski, loving father and son, passed away unexpectedly at the age of 44.
Nick was born on September 20 th 1978 in Jamestown, NY. He was a 1996 graduate of Silver Creek Central High School, received his
Bachelor's degree from Fredonia State, and earned two Master's degrees from the University of Buffalo in both Education and Physics.
Nick had a passion for science. He taught Physics at Pine Valley High School, Buffalo State College and Erie Community College. He was happiest when
spending time with his children, his fiancé Lyndsay, their dog Winter and also his family. He was a deeply loyal son, father, brother and friend. He was a fun
loving, kind and generous man that lit up a room with his boisterous laugh. He also loved the Buffalo Bills and University of Michigan Wolverines.
Nick was preceded in death by his Aunt Melanie and grandparents Albert and Althea Sweet.
He is survived by his fiance Lyndsay Foster and their dog Winter, his children Grace and Jackson Golembieski, his mother, Lorie (John Brown) Sweet, his fathers, Greg
Golembieski and Fredrick (Tambra) Hallett, his brothers, Fredrick (Becky) and Clifford (Amanda) Golembieski, his sisters, Jessica and Amanda
Hallett; also survived by several nieces, nephews and cousins.
A celebration of Nick's life will be held on Monday Nov. 14 at the Silver Creek Firemen's Club, 23 Jackson St., Silver Creek, NY at 3 PM.
The family has set up The Nicholas Golembieski Scholarship fund at Silver Creek Central High School to be given to a deserving "Senior" that shares the same
passions that Nick had for the sciences and sports.
In lieu of flowers send donations to: Silver Creek Central School, 1 Dickinson Street, Silver Creek, NY 14136 Attn: Business Office; checks made payable to the
Nicholas Golembieski Scholarship Fund.
Arrangements have been entrusted to the Hole-Parker Funeral Chapel, 160 Central Ave., Silver Creek, NY. Please share condolences at www.holeparkerfc.com