Recommend Mary Lou's obituary to your friends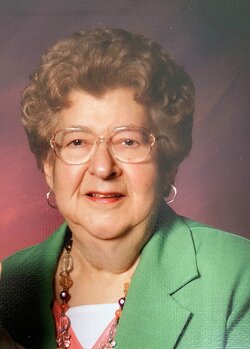 Obituary of Mary Lou Pagano
Mary Lou (Pelletter) Pagano, of Silver Creek, NY, passed away on January 27, 2022, at her home with her children by her side. She was born on April 22, 1931 to the late Louis and Mary (Cardarella) Pelletter in Silver Creek. She was the last of seven children, predeceased by all 4 brothers and 2 sisters: Frances Pelletter, Matthew Pelletter (Rose), Ralph Pelletter (Helen), Anthony Pelletter (Sarah), Phillip Pelletter (Louise), and Geraldine Durante (Anthony).
Mary Lou graduated from Silver Creek High School, Class of 1948. She was a class officer all four years, as well as the chairperson of class reunions held all the way through 2019. Upon graduation from high school, she worked as a secretary in her brother Anthony's law office for one year. She then worked at the First National Bank in Silver Creek for ten years, during which she attended the Banking School in Buffalo. She fulfilled the remainder of her career as a wonderful and loving mother of four children, and the secretary for her husband's construction business.
She was an active member of Our Lady of Mt. Carmel RC Church, including a Eucharistic Minister for 30 years, bingo concessions worker, and original organizer and chairperson for the OLMC Cash Club fundraiser. Mary Lou was also a charter member of the Tuesday Night Card Club started in 1950.
She married the love of her life and high school sweetheart, Marion Pagano, on May 17, 1952 at Our Lady of Mt. Carmel church, and they celebrated nearly 69 years together before his passing in 2021. They have four children, Franklin Pagano (Suzanne Schaff), Marianne Bowers (Ron) and Michael Pagano (Jennifer Restivo) all of Silver Creek, NY and Louis Pagano (Tammy) of Kentucky; 8 grandchildren: Daniel (Jenna) Pagano and Brittany Pagano of Illinois, Kayla (Marty) Chenery of Colorado, Michael Jr. and Miranda Pagano and their mother Wendy of Silver Creek, and Joseph, Emily and Samuel Bowers of Silver Creek. They also have 4 great children: Alaina and Dominic Pagano of Illinois and Mila and Ruby Chenery of Colorado. In addition, she was blessed with four step grandchildren: Christian (Shelbi) Restivo, Marissa Restivo, Noah Restivo, and Grace Restivo and two step great grandchildren Isaiah and Eli Restivo, as well as Baby Restivo-on-the-way. She is also survived by many nieces and nephews.
A special note of sincere gratitude to her private caretaker Pat Newberry, who blessed us with four years of her heartfelt care and unending support.
Due to the COVID virus, there will only be private visitation and funeral service from Our Lady of Mt. Carmel Church on Wednesday, February 2nd.
Arrangements have been entrusted to the Hole-Parker Funeral Chapel, 160 Central Avenue, Silver Creek, NY. In lieu of flowers, memorial donations may be made to Our Lady of Mt. Carmel Church, 165 Central Avenue, Silver Creek, NY 14136, or a charity of your choice.
To send flowers to the family or plant a tree in memory of Mary Lou Pagano, please visit Tribute Store